Mediterranean Diet Pyramid
Here at MySugarWatch, we follow the Mediterranean lifestyle principles and below you will see our version of this lifestyle in a pyramid form. The Mediterranean diet has been found to support our health, is adaptable to many different lifestyles and has shown to be sustainable in keeping weight, HbA1c and cholesterol levels down.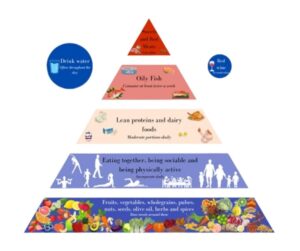 Fruits, vegetables, whole-grains, pulses, nuts, seeds, olive oil, herbs and spices
This is the base of the pyramid and what our meals should be based around. It is recommended to try and get a variety of different colours and type of fruit and vegetables in our diets to ensure we have a diverse range of vitamins, minerals and antioxidants in the body. NHS guidelines encourage us to consume 5 portions of fruit and vegetables per day, but the Mediterranean diet encourages more than this.
Carbohydrates can provide the body and brain with vital energy it needs for survival and choosing sources that have had minimal processing is more beneficial. Choosing carbohydrates that contain a higher fibre content can help to slow the release of the sugar that they contain, minimising spikes in our blood glucose levels.
It is also important to add in some healthy fats such as olive oil, avocados, nuts and seeds. These are essential to the body and brain for vital functions and processes including brain health, heart health and eyesight and should be excluded from the diet.
Eating together, being sociable and being physically active:
This section shows that it is not just a diet plan to follow but encourages physical activity and socialising as part of a lifestyle approach. Being physically active can help with our blood glucose levels as well as reducing stress and improving mood. Eating when relaxed and in good company, whilst taking time over food, allows for better digestion, properly tasting food and sometimes eating less, rather than rushing it down mindlessly while feeling stressed.
Lean proteins and dairy foods:
Proteins is an essential macronutrient that is found in every cell of the body. It can take more energy to digest and can help you to feel fuller for longer. Proteins including fish, seafood, chicken, turkey, tofu etc all count towards this target.
Dairy foods such as cheese, yoghurt and milk are still important as they contain calcium which is vital for healthy teeth and bones and consuming smaller amounts of full-fat dairy will assist the absorption of fat-soluble vitamins A, D, E and K.
Oily Fish:
Oily fish can be classed as both a protein and source of omega-3 fatty acids, which is classed as essential as our bodies cannot make omega 3. It plays an important role as it has anti-inflammatory properties, as well as helping with brain function, heart health and eye health. Oily fish should be consumed twice a week and includes sources such as salmon, trout, mackerel and herring.
Sweets and Red Meats:
This is the smallest section of the pyramid and should be consumed least often on the Mediterranean-style diet, due to their high saturated fat and sugar content as well as not providing many nutrients. These include foods such as sweets, cakes, desserts, biscuits, ice creams, sugary drinks, ready meals and processed meats such as burgers, sausages, ham and salami.
Water:
Hydration is important for a healthy body. Being just slightly dehydrated can impact upon concentration and the body's ability to function effectively. Hydrating with water and herbal or fruit teas, rather than fizzy, sugary drinks, or too much caffeine is recommended.
Those with type 2 diabetes have an increased risk of dehydration due to high blood glucose levels. The body will try to excrete excess sugar via the urine, therefore greater fluid output needs to be met with proper rehydration. It is recommended that we consume 6-8 glasses of water a day.
Red Wine:
Alcohol forms part of the wider social culture of the Mediterranean diet. Consumed in moderation, the odd glass of wine with an evening meal can be beneficial. Red wine has some health benefits, which may help to protect the arteries from plaque build up and antioxidants, which have an anti-inflammatory effect on the body.
However, alcohol is high in calories and can be high in sugar. Alcohol prevents the liver from producing glucose, so there is a potential for hypoglycaemia if too much is consumed. It is advised to eat while drinking or shortly afterward to prevent such a fall in blood glucose levels.