Periodontal Disease
Periodontitis or gum disease, is a serious infection that can quickly develop without proper treatment or intervention. Around 45% of the UK population have periodontitis of some varying severity, with 10% having the most severe form, which can result in tooth loss.
People with diabetes are more likely to experience following a period of long-term poor blood glucose control. There is a link between diabetes and gum disease, but it is not yet known why both conditions affect one another but could be related to the amount of glucose in the blood that could transfer to saliva, which will affect the health of teeth.
There are several different stages of gum disease that you can experience: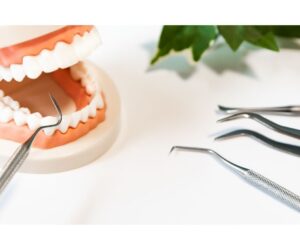 Gingivitis – Gingivitis develops when the gums become irritated by the bacteria in plaque and bleed when you clean your teeth. or sometimes when you eat. This causes gums to become swollen or red
Mild periodontitis – If gum irritation does not improve, it can lead to more serious gum disease (periodontitis) which damages the gum and bone supporting the teeth. Gum pockets open between the gum and tooth which allows the plaque bacteria to grow down the edge of your gum, making it harder for you to reach when cleaning
Severe periodontitis – This is the most advanced stage of gum disease with significant tissue and bone loss around the teeth. This leads to shrinking or receding of the gums, gaps appearing between the teeth, loose teeth, difficulty eating and ultimately tooth loss.
There are some ways that you can protect your teeth and gums including:
Checking your blood glucose levels and keeping them within your target range
Brushing twice a day
Having regular dentist visits
Following a healthy, balanced diet
Not smoking
Please speak to your diabetes healthcare team if you are worried about this or need some support. It is important to keep up with regular dental check-ups and make sure that the dentist is aware of a diabetes diagnosis.
References:
Diabetes UK (No date) Diabetes and gum disease. Available at:
https://www.diabetes.org.uk/guide-to-diabetes/complications/gum-disease (Accessed 5 April
2023).
Diabetes.co.uk (2023) Periodontitis. Available at: https://www.diabetes.co.uk/diabetes- complications/periodontitis.html (Accessed 5 April 2023).