Why do we choose the Mediterranean Diet?
At MySugarWatch, we recommend following a Mediterranean diet to help support type 2 diabetes management and overall health.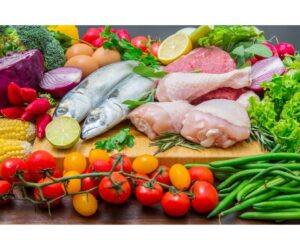 The Mediterranean diet is a flexible, wide selection of food groups and encourages individuals to adopt their way of life, including eating seasonally, socialising, and cooking meals from fresh ingredients. It is a diet mainly focused on plants, fruits, vegetables, oily fish, lean meat and complex carbohydrates. It is recommended by the NHS, due to the diet not being restrictive, it being easy to follow, having a higher level of fruits and vegetables and low levels of saturated fat.
There is a lot of evidence to show that the Mediterranean diet can be associated with a decreased risk of high cholesterol, high blood pressure, weight and blood glucose levels.
One study compared the effectiveness of the Mediterranean diet compared to a low-fat diet and found that the Mediterranean diet reduced HbA1c levels, and cardiovascular risk factors and patients had better glycaemic control. Another meta-analysis concluded that a Mediterranean diet produced the beneficial improvements to blood glucose levels and fasting glucose levels for those with type 2 diabetes, compared to other dietary interventions.
Evidence suggests that sustaining a healthy body weight is an important factor when it comes to managing type 2 diabetes and the Mediterranean diet has been shown to result in a reduction of weight. This weight has been shown to have been maintained for a long period of time, demonstrating the Mediterranean diets sustainability.
References:
Bonekamp NE, Damme IV, Geleijnse JM, Winkels RM, Visseren FLJ, Morris PB and Koopal C (2023) 'Effect of dietary patterns on cardiovascular risk factors in people with type 2 diabetes: A systematic review and network meta-analysis', Diabetes Research and Clinical Practice, 195(2023), pp. 110207.
National Diabetes Audit 2020-21 (2021) Available at https://digital.nhs.uk/data-andinformation/publications/statistical/national-diabetes-audit (Accessed on 2 February 2022).
Syeda A, Battilo D, VIsaria A and Malin SK (2023) 'The importance of exercise for glycaemic control in type 2 diabetes', American Journal of Medicine Open, 2023, pp. 100031
Unwin D, Delon C, Unwin J, Tobin S and Taylor R (2023) 'What predicts drug-free type 2 diabetes remission? Insights from an 8-year general practice service evaluation of a lower carbohydrate diet with weight loss', BMJ Nutrition, Prevention and Health, 2023(0), pp. e000544.
Whiteley C, Benton F, Matwiejczyk L and Luscombe-Marsh N (2023) 'Determining dietary patterns to recommend for type 2 diabetes: An umbrella review', Nutrients, 15(861), pp. 1-18.
©MySugarWatch2023