Why does waist size matter?
Measuring your waist circumferences can often be a better way to assess your risk of developing type 2 diabetes because we want to try and avoid having too much fat around the middle of our bodies. You can have a healthy weight or BMI and still have excess fat around your abdomen, meaning that you will still be at risk of developing conditions and complications of heart disease, strokes and type 2 diabetes.
How to measure your waist circumference:
1. Find the bottom of your ribs and the top of your hips
2. Place a tape measure around your middle at the halfway point between them (usually just above the belly button)
3. Make sure its pulled tight but isn't digging into your skin
4. Breathe out naturally and take your measurement
5. Take your measurement again just to be sure
Here are the parameters that should try to work towards to be in a healthy range: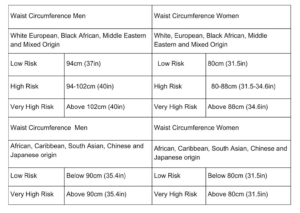 If you are within one of the high or very high-risk groups and would like some support with bringing your weight down and managing your type 2 diabetes, you can sign up for one of our membership packages and our diabetes specialist coaches to help you reduce your waist measurement.
References:
British Heart Foundation (No date) Why your waist size matters. Available at https://www.bhf.org.uk/informationsupport/heart-matters-magazine/medical/measuring-your-waist (Accessed on 13 January 2023).
Fan Y, Wang R, Ding L, Meng Z, Zhang Q, Shen Y, Hu G and Liu M (2020) 'Waist circumference and its changes are more strongly associated with the risk of type 2 diabetes than body mass index and changes in body weight in Chinese adults', The journal of nutrition, 150(5), pp. 1259- 1265.
NHS (2021) BMI healthy weight calculator. Available at https://www.nhs.uk/live-well/healthyweight/bmi-calculator/ (Accessed on 13 January 2023).
©MySugarWatch2023